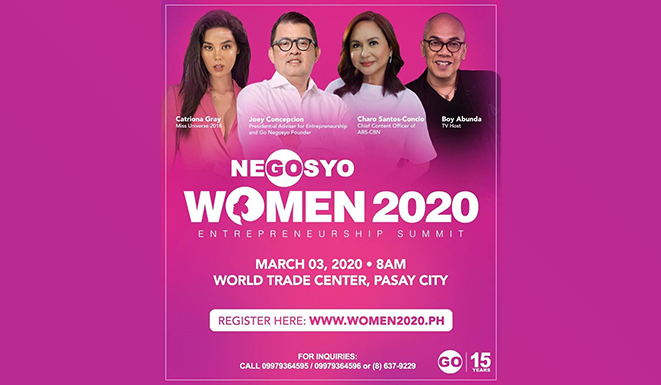 Celebrating Women Entrepreneurship
There's nothing new about women owning and operating a business; they have been doing it for decades. If you don't know it yet, National Bookstore, The Aristocrat, Goldilocks, and Hen Lin, some of the most recognizable brands in the country, have all been established by a woman.
These women business owners, however, did not find success overnight. Before they became what they are today, Soccorro Ramos, owner of the National Bookstore, Asiang Reyes, the woman behind The Aristocrat restaurant, Milagros, Clarita and Doris Leelin, founders of Goldilocks, Araceli along with husband Jun Manas, owners of the Hen Lin, had to overcome several challenges, take on risks and experience hardships along the way. If you are a business owner (or aspiring to become one), you'll find the history of these companies very inspiring.
Esquire Financing Inc. (EFI) has been in the business of helping business owners take the next big step in growing their business through our
fast, hassle-free non-collateral business loans
. Over the years, we have helped thousands of women entrepreneurs across various industries. Here are 7 women business owners, who are proud to have EFI as their financing partner, sharing how they are able to run a successful business:
"Use your money wisely and don't get loans that you don't really need. Don't spend it for personal use. Before getting loans, you should have a distinct purpose on where you are going to put the money." -
Karla Velasco, beauty and wellness
"Follow your passion" -
Marina Reyes, transportation and storage
"Take a risk. Don't be afraid of asking for help from other institutions." -
Ayessa Galang, advertising and marketing
"Patience is a virtue." -
Arline Siron, manufacturing
"Accept the challenge of running a business and do not give up." -
Jeny T. Yuvedad, wholesale and retail
"Focus on your business." -
Denise Lorraine Alvarez, wholesale and retail
"Hard work and patience." -
Elena Pasaque, wholesale and retail
To show its full support to women entrepreneurship, EFI will be part of Women 2020 Entrepreneurship Summit, the biggest and most inclusive women entrepreneurship summit organized by the ASEAN Business Advisory Council Philippines in partnership with the Philippine Center for Entrepreneurship known to many as Go Negosyo.

In this event, ASEAN speakers will discuss the opportunities for women to participate in economic activities. The event will also recognize exceptional ASEAN women entrepreneurs who have made an impact on the ASEAN economy. There will also be an expo that will serve as a platform for the country's top brands to showcase their products and services. The Women 2020 Entrepreneurship Summit will be held on March 3, 2020 at the World Trade Center, Pasay City.
Attend the event and learn from the best. While you're there, visit our booth, talk to one of our Loan Specialists and see how we can help take your business to greater heights through our fast, hassle-free non-collateral business loan.
Esquire Financing Inc. (EFI) is a non-bank financing institution in the Philippines catering to small and medium enterprises (SMEs) whose vision is to grow their business. Visit
www.esquire.com.ph
now
and get started with your non-collateral business loan.